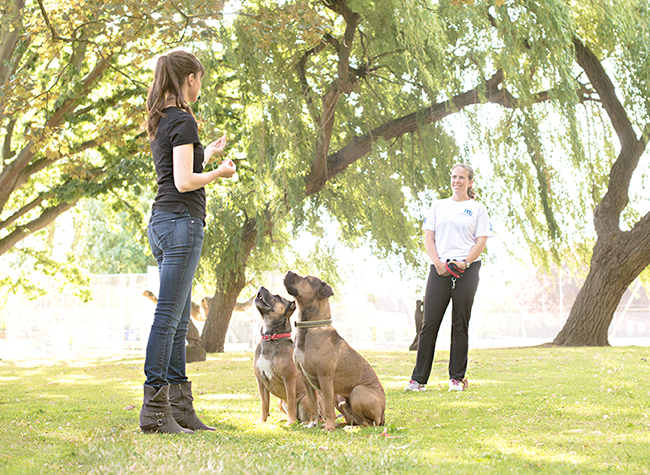 What does "dressing for success" mean for a professional dog trainer who runs their own business? As a hired employee, you may have been asked to wear a uniform or a type of attire that promotes job safety and the culture of the company you work for. Sometimes there's some flexibility to add your own personal flair, but ultimately the employer's image comes first.
After you strike out on your own as an independent dog trainer, you suddenly have the freedom to choose whatever you'd like to wear! You might be excited to pick a specific look to represent your brand, or maybe you want to celebrate your liberation by randomly grabbing whatever you like from your closet each day. Does what you decide to wear really matter as long as it's clean and comfortable?
Actually, it does. Before you even reach out to shake a client's hand or introduce yourself to a new training class, they've already made a snap decision about who you are – based entirely on subconscious assumptions about your appearance.
What you wear influences how people feel about you
A recent study showed that the average person forms an impression of someone within 33 to 100 milliseconds of meeting them. That's about the speed of a single blink of the eye.
First impressions matter in every business, big or small. They are especially important for you as a dog trainer, because most people have never even met or hired a canine expert. They might even incorrectly assume dog training is a hobby rather than a respected profession within the pet care industry. 
What you are wearing when you introduce yourself to a dog training class or ring the doorbell at a new client's home has an undeniable influence on the trust – or lack of it – that people feel when they meet you for the first time. Now that you can choose the style, comfort, and color of your daily uniform, how do you want to feel when you look at yourself in the mirror each morning? And what do you want those clothes to say to the people you meet?
Let's look at how clothes evoke strong assumptions among people who are looking for a trusted guide to help them with their dog. For example:
A polo shirt or jacket neatly and proudly branded with your business logo invites people to see you not just as a dog expert, but as an established business that is here to stay. They'll probably be more likely to trust that you'll be around if they need your help again in the future.

The khaki shirt has a long educational tradition among zoological and animal welfare professionals, and also has an aura of travel or adventure. However, it's also iconic in TV and movies, so this look might distract some clients with its safari feel.

Well-made jeans and an non-faded, perfectly fitted tee, long-sleeved turtleneck or a collared shirt gives off a professional but minimalist vibe (think Steve Jobs). It invites clients to relax and be comfortable with you while causing them to curiously anticipate the expertise hidden within that understated but crisp, clean garb. 

Creased slacks, a pressed shirt, a loosely fitted work blazer, and sharp-but-sensible boots can carry the wearer from an active outdoor dog training class, straight to the head of a conference table to direct a business lunch-and-learn. Classic garb also lends a "higher education" feel.
The sky's the limit on creative work uniforms for dog trainers — as long as the message you are sending with your garb is actually the one you want your clients to receive. You can break a few rules, as long as "rule-breaker" fits the mood you are trying to establish. A dog trainer in a beach community who is all about reducing stress and having some fun might even choose a Hawaiian shirt paired with khaki pants. Whether or not that trainer keeps that look will depend whether their clients welcome the fun but listen and learn, as well.
What you wear influences how you feel about yourself 
Choosing a specific outfit or a uniform won't make you a more knowledgeable dog trainer. But it can make you a more confident one.
Prepping for your day by dressing in work garb signals to your brain that you're shifting into your professional role as a dog training expert. Your confidence increases subtly as you physically step into the role you've worked so hard to achieve. 
You may have had jobs in the past where you were expected to wear a style or color you'd never choose for yourself, or that didn't fit your body type. If so, you know that if you hate how you look or feel when you dress for work, it makes your whole day less enjoyable.
Now that you can choose what to wear, your confidence and comfort in your business can grow. You'll be happier and more likely to greet your clients with a genuine smile, knowing your clothes reflect who you really are and what your business is on track to become.
Grooming matters for both pooches and professionals
When you meet a new client's dog for the first time, you immediately notice if their fur is dull or glossy, if they've recently been groomed, and whether or not their nails have been neatly trimmed. You may mentally add "grooming" to your talking points or unconsciously judge their handler if their dog appears unkempt.
Likewise, if you hire a professional and they arrive at your door with stains on their shirt and muddy, beat-up sneakers, you'll probably spend the first 5 seconds focused on their appearance rather than their introduction. We are most comfortable when the people we hire to help us have a neat, professional appearance. If they don't, we subconsciously worry that they aren't quite on top of things, even if they greet us with a smile.
So, in addition to choosing clothing that helps your clients see you as an expert, iron out wrinkles, ditch stained clothing, and start your day off clean and fresh. Pause to reassess yourself between clients. Taking just a few minutes to brush the mud off your shoes and roll the fur off your clothes will help boost your next client's confidence in you.
3 quick fashion-buying tips for dog trainers
Be comfortable. If you are uncomfortable in your new work clothes, you simply won't wear them. Try on the shirt or jacket before having a local vendor screen-print or embroider your entire order. If you're purchasing shirts, hoodies, or jackets online, buy a single set to start, instead of immediately investing in a whole wardrobe. Test wash and wear it before investing a lot of money in clothing that might shrink, pull, or itch.

Make sure your clothing is safe and appropriate for your work as a dog trainer. Too-tight clothes will limit your ability to crouch, run, and play with your canine clients. Alternatively, swinging cardigans or loose scarves can tempt a dog into leaping up for a toothy grab. Synthetic fabrics like

polyester will absorb odors

that stubbornly refuse to wash out, so natural fibers like cotton may be a better option for a highly active dog trainer. 

Your footgear should be clean, comfortable, closed-toe and non-slip. After all, you'll be twisting, turning, backing up, running, leaning, and treating — not just standing and walking. After a few months of rain, mud, grass stains and puppy pee, economy-brand shoes or boots may start to look shabby, so you'll probably need to replace cheaper shoes more often than high-quality footgear. If you like casual clothes but want a classier feel, replacing sneakers with quality boots can upgrade your entire look — if you can sprint after an escaped dog without twisting an ankle!
4 uniform hacks that help keep you looking sharp when work-life unravels
Keep a personal care emergency kit in your vehicle. Include an extra shirt for accidents with muddy paws, a waterproof poncho or jacket for unexpected downpours, a comb or brush, and even a toothbrush and toothpaste in case you run out the door a little too quickly one morning. A

canvas tool bag

with zippered pockets or a

sturdy, professional briefcase

are sharp-looking carryalls for personal items as well as clickers, leashes, collars, treats, or other supplies you like to have close at hand during training sessions.

Purchase a branded shirt, jacket or a pin-on name tag "just in case" – even if wearing your name on your chest gives you the shudders. You never know when you might find yourself in a situation where strangers need a quick visual confirmation that you're a canine expert. Think: roadside animal rescue when police are on the scene, or an urgent call for your local shelter for help in a community emergency.

Adopt a minimalist wardrobe if doing laundry, pressing shirt collars, pairing up socks, or choosing daily outfits is an extra-tedious chore for you. Buy a week's worth of well-fitted easy-care shirts (of a single style and color). Keep them on hangers, so you can grab and go, wrinkle-free. Stick to one style and color of socks, too, so you can toss them all in a drawer and grab what you need without even having to look. Wearing all dark or all light colors means you can throw everything in the wash together, too.

Consider buying a fitted dog handler's vest, with pockets for gear and treats, and have it embroidered with your business name or logo. If you're not ready to settle on a wardrobe with a particular look and feel, or if you missed getting the laundry done this week, you can don your vest over any clean and comfortable outfit for an identifiable, professional appearance.
Your vehicle is an extension of your uniform
Before clients even lay eyes on what you're wearing, they'll probably get a good look at the vehicle you arrive in.
While a shiny new vehicle with business signs or a professional wrap provides a significant boost to your image, most people understand that you can't keep a vehicle from aging or getting small scratches and dents. They do expect you to keep it clean, though. A dusty vehicle full of crumpled fast food wrappers will tell a different story than one that is clean and well organized. Extra effort is required to keep a dog-lover's car looking and smelling good (all that loose fur, muddy towels, and dog gear!) so washing, polishing and vacuuming your vehicle is an important part of maintaining your professional appearance.
The Victoria Stilwell Academy is an expert in first impressions
Attention to a strong first impression is the best way to launch or grow your dog training business. When you are confident in your appearance and expertise, your clients will immediately catch that trusting vibe. The Victoria Stilwell Academy Dog Trainer Course is designed develop your competence and expert authority in dog training and behavior, people skills, and business management. You can start our online option right now!