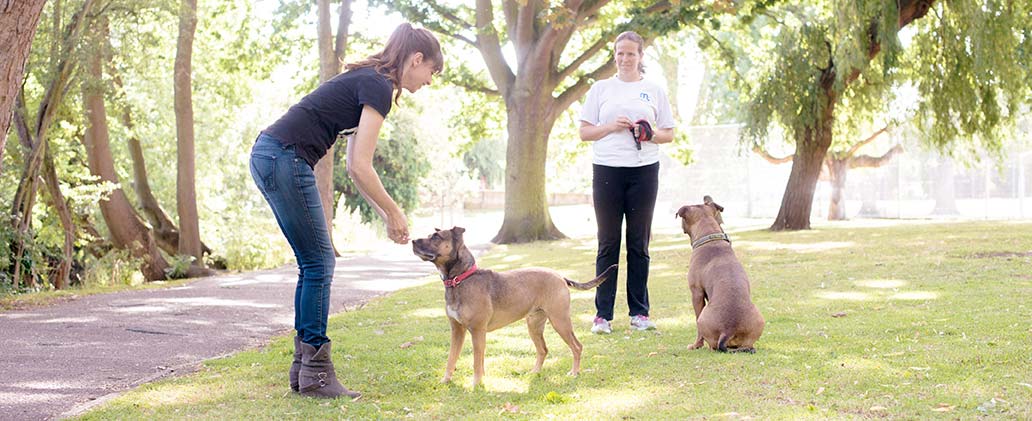 Learn From the Best
When you learn from Victoria, you'll experience first-hand her passion and commitment to improving the lives of animals. Victoria and her team share an unwavering commitment to modern, positive dog training techniques and they enthusiastically share their knowledge and experience to prepare you to confidently apply these techniques when working with your own clients and their dogs.
More Hands on Learning
Many dog training schools are either completely or primarily delivered online, with only a minority of the educational experience coming via in-person, hands-on learning. While 'book learning' is important (and VSA includes plenty of it in its curricula), becoming a great dog trainer requires that you get your hands dirty, learning through real-world experience with a variety of dogs.
VSA's Dog Trainer Course is built to deliver the most dynamic online learning experience possible while providing valuable opportunities to work in-person with dogs under the tutelage of Faculty Advisors and in-person instructors.


Business and Marketing Support
You may be the best dog trainer in the world, but if you don't know how to start and run your business effectively, you won't be nearly as successful and you may not stay in the industry for long. VSA teaches not only dog and human communication skills, but also how to set up and maintain a pet industry business from A to Z so that you can maximize profits, extend your marketing reach, and have the greatest impact on your community.


Focus on People Too
Unlike most other schools, VSA is committed not just to teaching you how to train dogs, but also to helping you learn to communicate with your human clients effectively as well – an equally important skill for dog trainers. Every VSA course features extensive materials to help you focus on how to handle your clients. After all, a dog's owner is always its most frequently-involved dog trainer, so if you can't motivate and inspire the human, the dog won't learn as effectively.


Flexible Timing
The courses offered at VSA are designed to fit your schedule. With little or no time away from home required, you can learn at your own pace while benefitting from the structure of a custom-designed curriculum and VSA's industry-leading mentor program.
Enjoy a Sense of Community
Throughout your course of study at VSA, you'll enjoy the vibrant engagement and sense of community that comes from being with and learning from like-minded dog training professionals including Victoria, VSA faculty, your mentor, and your classmates. This sense of community extends far beyond the scope of the course as you remain committed to ongoing advancement and collaboration with your professional peers.
Specific Benefits for Graduates of the Dog Trainer Course


Gain a Complete Education
VSA's program is designed to provide you with an education that is complete in all aspects. You'll develop as a trainer through a variety of learning models, gaining knowledge and skills by reading, listening, engaging, watching and mostly importantly, doing. We emphasize practical application and hands-on experience, which are both vital to becoming a skilled trainer and teacher. This combination of learning modalities will help you assimilate the knowledge and skills you need to be a great dog trainer.
While the hands-on aspects of VSA's comprehensive curriculum is focused on you gaining experience with force-free training methods, we'll also teach you about other training methods so that you can understand the dangers and fallout of traditional compulsion, punishment, and dominance-based methodologies. This knowledge, coupled with your hands-on experience with the countless benefits of positive training, will enable you to promote and defend the mission of promoting and advancing the use of modern, positive dog training techniques and theories.