Special Holiday Limited Offer
Use promo code ULTIMATE during Dog Trainer Course registration to automatically receive one of the following premium add-on packages.
Platinum Add-On
First 10 enrollees get:
$250 Positively Store shopping spree
5 free Positively TV annual subscriptions
Private 1-on-1 coaching session with Victoria
2 Free Dog Behavior Conference Registrations
Personalized book signed by Victoria
Gold Add-On
Second 10 enrollees get:
$150 Positively Store shopping spree
5 free Positively TV annual subscriptions
Private 1-on1 coaching session with Victoria
1 Free Dog Behavior Conference registration
Personalized book signed by Victoria
Silver Add-On
Third 10 enrollees get:
$75 Positively Store shopping spree
Free Positively TV annual subscription
1 Free Dog Behavior Conference registration
Personalized book signed by Victoria
The flexible-length Dog Trainer Course includes:
I've been training professionally for 15 years, and have been a VSPDT for 8 of those. I can confidently say that one of the highlights of my professional dog training career has been that of being a Faculty Advisor for students from around the world at VSA. I'm proud of the curriculum: the quality of the knowledge and faculty is outstanding, and I've been proven right in my assessment as I see students develop, grow, and thrive in their knowledge and skills. It's rewarding to keep in touch with them even after graduation. The Victoria Stilwell Academy for Dog Training & Behavior takes in those who are serious about learning the science, and the art, of training dogs and their people, and the alumni community speaks for itself.
I can't recommend VSA enough, and as I often tell the students I advise, I only wish VSA had been around when I started down the amazing path that is dog and animal training using evidence-based knowledge and techniques. This is a quality program, and one that I am proud to be a part of.
**BREAKING**
Limited-time financing plans now available. Enroll now for as low as $354/month.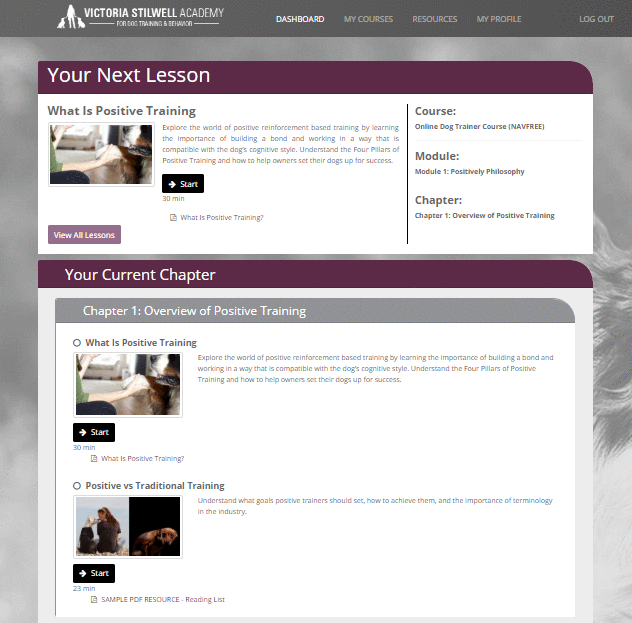 At-Home Study
VSA's Dog Trainer Course delivers an unparalleled online learning experience using our custom-built, state of the art digital e-learning platform – the Student Learning Center (SLC). Intuitive, user-friendly design allows students to move efficiently through the course's content and encourage effective, powerful learning.
The learner-centered, performance-based course consists of 20 dynamic modules which each contain multiple chapters made up of various online lessons delivered via both video and text/graphics.
The SLC's powerful online lesson interface provides students the opportunity to learn through constant engagement activities with the 100% instructor-led curriculum, live video assessments, DIY activities and tests.
Dedicated Faculty Advisor
Upon enrollment in the Dog Trainer Course you'll be paired with your own personal VSA Faculty Advisor – a professional dog trainer hand-selected by VSA to help lead you through the course content.
Office Hours
Every week you'll meet with your dedicated Faculty Advisor for up to one hour to discuss what you're learning in the online lessons and activities and to conduct regular skills assessments of your progress. These videoconference meetings are invaluable opportunities to learn from some of the most successful, experienced professional dog trainers in the world on a one-on-one basis.
As you progress through the course, you'll develop a working relationship which allows you to benefit from the support of a virtual mentor experience while honing your dog training skills and knowledge.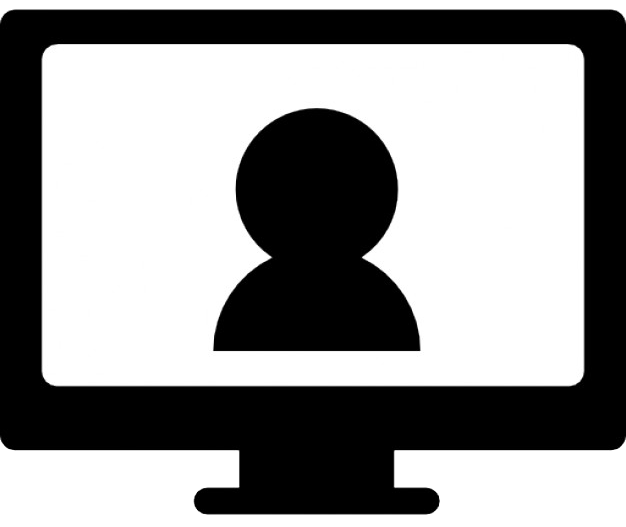 Assessments
Your Faculty Advisor will also be your sounding board, conducting skills assessments throughout the course either live or via pre-recorded sessions. With your Faculty Advisor providing guidance and constructive feedback about your dog training skills and knowledge, VSA's assessments are structured to set you up for success: you may re-attempt your skills assessments as many times as you need to achieve perfection.
Throughout the course you'll be assessed regularly by your Faculty Advisor on topics including:
Understanding dog body language
Multiple training methods including capturing, luring and shaping
Learning theory and functional assessments
VSA's basic manners behaviors including sit, stay, recall, and leave it
Common behavior problems such as jumping, door issues, and leash-pulling
Group classes and private lessons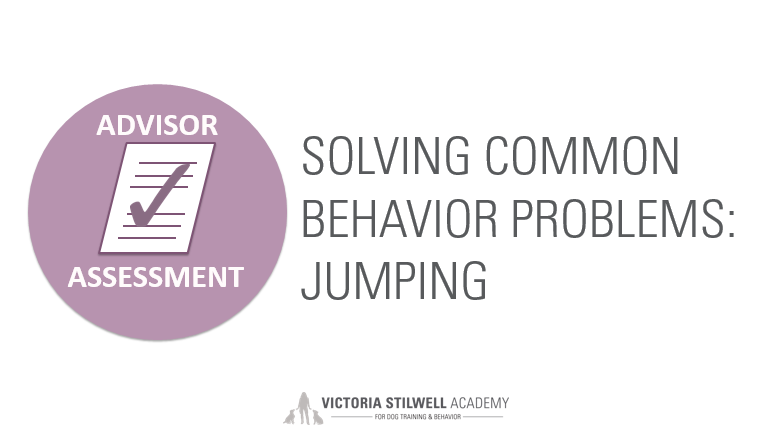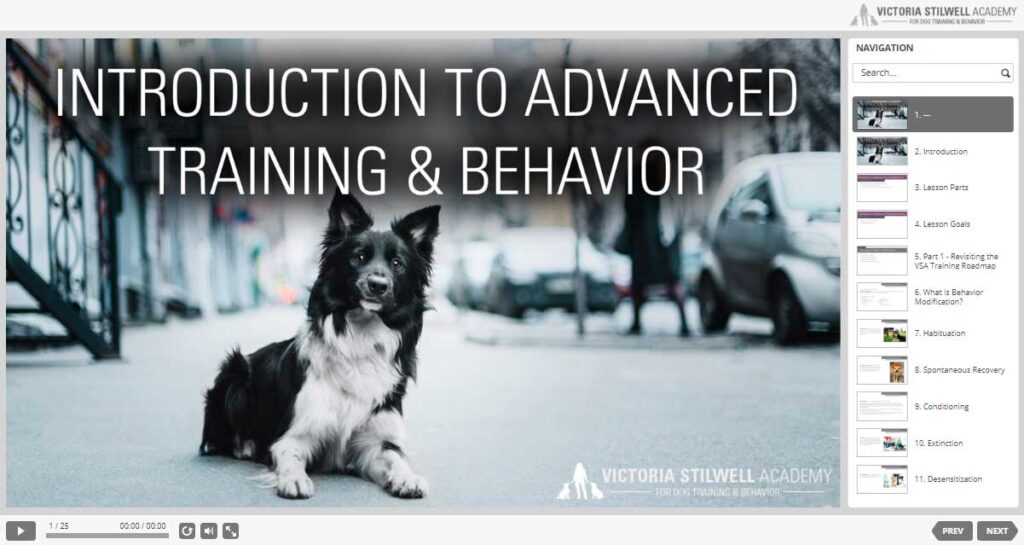 Advanced Training Curriculum
All Dog Trainer Course students start by learning the foundational elements of how dogs think, feel and learn through early modules like Canine Cognition, Ethology, Learning Theory and more. You'll then learn how to teach dogs key cues and behaviors before moving on to more common behavior problems. One of VSA's core dog training principles is that we not 'over-train' our dogs, so students learn to use these cues and behaviors so that they can problem-solve dynamically by thinking 'outside the box' instead of strict adherence to single methods and slavishly following pre-determined counts and procedures.
VSA's curriculum also includes in-depth explorations of more advanced training and behavior modification of more extreme cases like aggression, reactivity, and anxiety-based issues. Through it all, however, the focus is on more than just training dogs. VSA's world-class faculty includes human clinical psychologists as well as branding and marketing experts to help ensure that you're not just 'good with dogs', but that you can communicate effectively in all situations and learn how to grow and manage your business successfully.
Downloadable Resources
Throughout the course you'll be provided with a continuous stream of downloadable (and printable) documents that are specially designed to help support your learning experience. VSA stays current with the latest in key adult learning principles to always provide students with the most accessible yet powerful processes available today.
From client handouts to powerful learning guides and group class curricula to share with clients, VSA's suite of resources and documents brings your online training to the real world.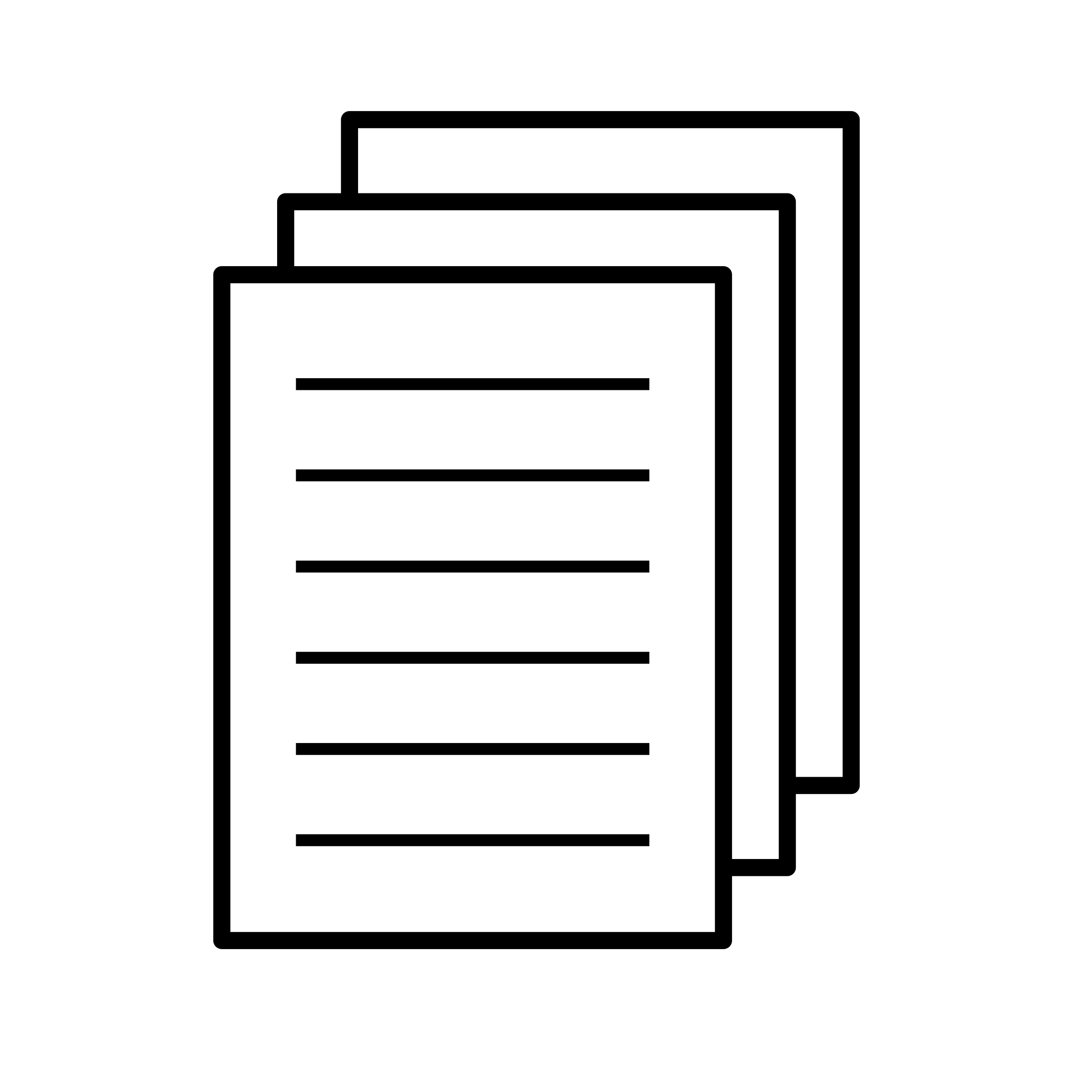 VSA has been a pivotal stage in my life. I had entered the program with no experience in dog training, little knowledge of dog behavior, and an uncertainty in what I wanted to be doing for a career. What grew in me during this experience was the confidence I had lacked in the beginning. This program is not just about providing information on a piece of paper. It's also about developing you as a person.


Simply put, there's just not another dog trainer education remotely like the Dog Trainer Course available anywhere else.
Victoria built this course from scratch to fill a void that existed in the field of dog trainer education prior to VSA. Not only does VSA excel in what it offers students in practical terms (an elite digital instructional platform, the most comprehensive professional dog trainer curriculum available, unparalleled support via Faculty Advisors and the proprietary learning system developed by VSA), we're committed to helping you change your life as part of a truly supportive, welcoming family.
When you complete the Dog Trainer Course program, you'll be a certified professional dog trainer with the skills, knowledge and – just as importantly – the confidence to start your own business training dogs or expand your current offerings to include dog training.
VSA's Dog Trainer Course offers a premium learning experience that avoids the common pitfalls of 'training by numbers' while remaining uncompromising in our commitment to translating the latest in powerful science-based, dog training tools and methods which allow VSA graduates to achieve consistent real-world results with clients.
But don't just take our word for it…
VSA gave me a solid foundation on which to build my business and therefore my future. I learned skills and gained knowledge that I use every single day, either working with dogs or in terms of how I run and present my business. Because of VSA I took a lifelong dream and made it real.
I am 10x more knowledgeable than I was 1 year ago, and I get much more effective results with my clients. Now that I have learned the exact science, I am able to take on tougher cases like dog aggression, phobias, resource guarding, etc. and be successful in getting clients the long lasting results they were looking for. I am beyond grateful for VSA!
If it wasn't for VSA, I never would have gotten into the dog training business. I was looking for ways to help my own dog when I came across it – It was my inspiration, but also fulfilled a dream I'd had as a kid to work with animals.
VSA has the most extensive training for a person wanting a career in dog training & behavior. It approaches the topic of dog training and behavior from all areas needed to truly learn about why a dog does what he does, how to teach the dog (and human) in a compassionate way, and how to operate and market a business successfully. All in all, the best dog trainer course available today.
Through the heartfelt attention of my advisor and teachers of the program, I gained courage, power, motivation, and acceptance. I feel ready for people to depend on me to train their dogs (and them of course) because I have learned how to believe in myself. The tools, advice, and instructions I have received is something I hope every individual interested in dog training is able to get. I am so grateful!
Instructor-led Video Lessons
Private Online Support Group
Months Duration (flexible)
Minimum Weekly Office Hours
Access to the Premium In-Person Add-On Track
Graduation from VSA's Dog Trainer Course carries many benefits.
Graduates become part of a VSA community that fosters continued learning, sharing, and collaboration. The ability to stay connected with other like-minded positive professional trainers is an exceptional benefit when launching a new career. Graduates also receive marketing and business support to promote and encourage the growth of their dog training business, including:
Professional Certification
Use of the prestigious 'VSA-Certified Dog Trainer' (VSA-CDT) designation in all professional and marketing materials.
Community Support
Access to a private VSA Graduate Facebook Group for feedback, community-building and support.
Business Documents
A suite of pre-prepared, brandable documents to help you get your business started.
Upgradability to In-Person
Graduates of the Dog Trainer Course get priority access to upgrade to the premium In-Person Track.
Online Badge
Use of a VSA Graduate Badge on graduate's website, social media, and other marketing materials.
Teaching Materials
Ready-made curricula for teaching group dog training classes.
Course Resources
A suite of downloadable resources containing learning guides, references and more.
Online Referrals
A profile listing on VSA's website trainer search so that pet owners searching for a trainer can find VSA graduates.
Victoria's Reputation
Use of images of themselves with Victoria Stilwell, subject to VSA approval.
Ongoing Access
Continued access to VSA faculty and curriculum after graduation.
VSA's Dog Trainer Course graduates earn Continuing Education Units (CEUs) through various credentialing organizations. For more info about CEU's please contact VSA.
Dog Trainer Course Tuition
$3,950 USD or ~£3,200 GBP
Dog Trainer Course tuition is payable in one payment to VSA, but we also make learning with us more affordable via the following methods:
Apply for a loan from Climb Credit online and get an answer in less than 5 minutes. Get full access to the course for $199 down with monthly payments as low as $178/month.
Applying for a loan using Climb Credit's fully automated online process is fast, easy, safe, and doesn't affect your credit rating. Climb Credit loans are only available to students located in the US (or who have a loan guarantor based in the US).  Apply for a Climb Credit loan here.
VSA's 3-Payment Plan includes three monthly payments of $1,317 or £1,197.
VSA's 6-Payment Plan includes six monthly payments of $708 or £643.
VSA's 12-Payment Plan includes 12 monthly payments of $354 or £322.