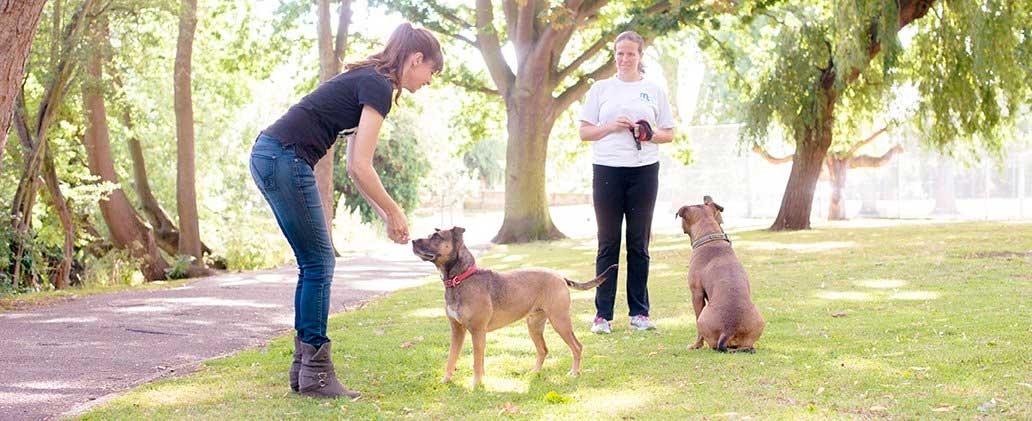 Help shape the future of dog training
The Victoria Stilwell Academy's Dog Trainer Course is an elite educational experience for aspiring professional dog trainers which combines online learning, real-world skills and knowledge assessments, and an unparalleled program of instruction designed to produce the highest quality dog training professionals in the industry.
VSA Students can choose to enroll in the online-only Dog Trainer Course and take advantage of weekly live Office Hour sessions with a dedicated Faculty Advisor, or they can supercharge their learning by adding the premium In-Person Track to participate in live, in-person intensives, real-time Cyber Classes, enhanced assessments, and shadow a local professional dog training Mentor in their hometown.
Faculty Advisors and Mentors play a crucial role in the development of VSA Dog Trainer Course students. Click the links below to learn more about each program.
Faculty Advisors
Every single Dog Trainer Course student (including those enrolled in the add-on In-Person Track) is assigned a dedicated Faculty Advisor with whom they meet virtually every week throughout the course to discuss the curriculum, answer questions, and perform skills assessments via videoconference.
Faculty Advisors are VSA's elite on-the-ground learning portals who provide continuity and a consistent, personal learning experience for each student through their familiarity with and passion for the VSA curriculum, protocols, and educational mission.

Mentors
In addition to their personal Faculty Advisors, Dog Trainer Course students who also enroll in the premium add-on In-Person Track are assigned a local professional dog training Mentor in or near their hometown.
While VSA Faculty Advisors meet with all students via weekly virtual Office Hours, In-Person Track students shadow their local Mentors for both group classes and private training sessions during the course field units, gaining real-world experience and knowledge by watching and sometimes assisting during training sessions with live clients.