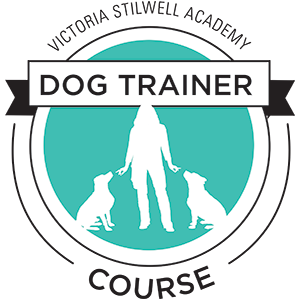 It's been almost 10 years since VSA's founding, but it's hard to believe that it was Halloween of 2018 when VSA changed the landscape of dog trainer education with the launch of our online Dog Trainer Course for aspiring pet professionals. This transition to a truly hybrid online model where students could learn from home at their own pace while under the supervision of a dedicated Faculty Advisor with whom they meet regularly raised the bar for what was possible for professional dog trainers.
From the outset, Victoria has ensured that VSA is a unique organization fully committed to remaining a premium educational outlet with compromise for those looking to take the next step as a professional dog trainer. The Academy is centered on Victoria's firm belief that learning is a lifetime process, not only for students, but also for institutions designed to serve them. So when Covid hit, the previous enhancement of our online Dog Trainer Course model (alongside the ongoing In-Person Track) meant we were well-prepared to help aspiring professionals chase their dreams, utilizing the power of online learning combined with scheduled personal office hours to serve hundreds of people even during lockdowns and a global pandemic.
It's hard to overstate how deeply rewarding the response to our programs has been to the entire VSA Team, and the phenomenal feedback we have received from our amazing students continues to overwhelm and humble us all.
During the height of Covid, we extended discounted tuition pricing which was originally intended to last only a few months, but now that promotional period must come to an end.
Effective November 1, 2022, standard tuition for VSA's online Dog Trainer Course will increase by $500 to its full price of $3,950 (USD).
Students enrolling in VSA's Dog Trainer Course before November 1, 2022 will lock in this reduced-price tuition before it expires.
So it goes without saying that if you've been considering taking your dog training skills, knowledge and confidence to the highest level by taking VSA's flagship professional course, now is the time.
You're effectively saving $500 by locking in the promotional $3,450 price before it increases to $3,950.
We have only raised the price of the Dog Trainer Course once (3 years ago) since its launch, so this is not an opportunity that presents itself often.
You can apply for enrollment directly now, or you can schedule a time to speak to an enrollment coordinator about your options at any time.
NOTE: Students applying before November 1, 2022 will be eligible for the lower $3,450 tuition provided they enroll in the course before January 1, 2023. Applications received after November 1, 2022 will be subject to the increased tuition ($3,950).